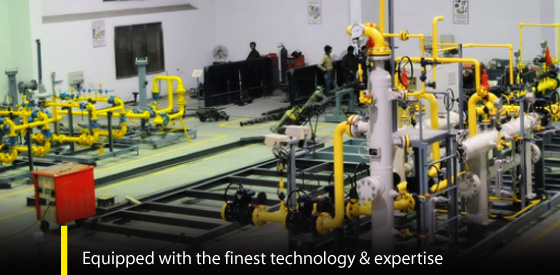 News & Updates
Control Plus has bagged new orders from Natural Gas Transmission and Distribution Companies like AGL, GAIL, GSPC, GSPL, MNGL and SGL.
The 2nd Annual Meeting held on the 9th of June discussing the growth and need of the emerging oil & gas sectors.
Manufacturing Facility
We recognise the paramount need for an in-house state-of-the art research and design facility and have established one, which is dedicated to manufacturing highly customised and precision products. The entire quality chain is completed with a highly modern and mechanised manufacturing facility to translate the R&D outputs along with a testing facility that matches the best in the business, internationally. So,an in-house R&D backed by our Manufacturing plant and Testing facility, all under one roof, gives us an unbeatable edge in the business. Our products apart from their quality aspect are popular as they are ergonomically designed to ensure minimal utilisation of space, ease in operations and minimal maintenance.
Fleet of Welding Sets (GTAW & SMAW) & Electrode Baking Ovens
Portable as well as Grinding and Drilling Machines
Auto-recovery type Blasting Room
Self-sufficient Dark room for Radiography examination
Hydrotest unit of upto 350 kg/cm² pressure capacity
Turn-mount Lathes
Power Hacksaw Machines
Lifting Devices & Cranes
Transport / Carrier Vehicles